America's Civil War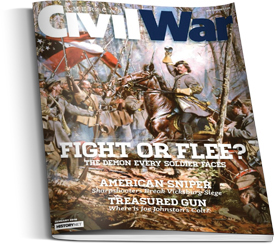 About
This publication delivers exciting and authoritative insights into the epic struggle that nearly tore the Union apart. Beautifully illustrated with historic photographs, period and modern artwork and detailed battle maps, with a strong emphasis on the military aspects of the war, its battles, strategies and leaders. America's Civil War is published 6 times per year with a paid circulation of 27,000.
Advertising
Civil War Antiques and Collectibles
Advertise military history antiques or other collector's items.
Military History Books
Advertise both historical fiction and nonfiction books to this targeted audience of military history readers.
Civil War Era Maps and Artifacts
Civil war artifacts or other historical military objects can be showcased in the Marketplace section.
Direct response advertising is offered run-of-book for one-third page and larger display ads. The Marketplace section consists of display ads up to one-sixth page and word ads run in the Classifieds section.
Advertising Information At A Glance
What can you advertise in America's Civil War Magazine  Tourism , Gaming ,Banking /Insurance. Travel & Entertainment, Education, Publishing Military Support, Museums. For a full listing and logos see the Historynet Media Kit
Reader Demographic
Male readers: 91%
Median age: 54.9 years
Median HHI: $101,973
College educated: 92%
Married/living with partner: 73%
Active Travelers:  twice as likely than the general  population to travel for special events, and more than eight times as likely to visit national parks.
Active Readers: purchases an average of 4 or more  books  every 3 months.  
Loyal HistoryNet Readers spend: 1 hour, 48 minutes reading each issue