Civil War Times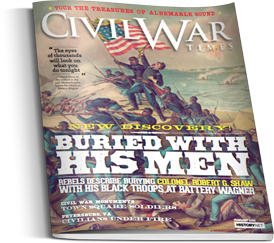 About
From biographies to battle stories, eyewitness accounts to period photographs, travel guides to insightful book reviews, this publication delivers the thrilling, living history of America's greatest internal struggle.
This publication is published 6 times per year with a paid circulation of 39,000.
Advertising
Civil War Artifacts
Advertise military history antiques or other Civil War era collector's items.
Civil War History Movies
Promote historical Civil War era movies in the Civil War Times Marketplace.
Civil War Collections for Sale
Reach hobbyists and collectors to sell historical military collections and items.
Direct response advertising is offered run-of-book for one-third page and larger display ads. The Marketplace section consists of display ads up to one-sixth page and word ads run in the Classifieds section.
Reader Demographic
Male readers: 91%
Median age: 54.9 years
Median HHI: $101,973
College educated: 92%
Married/living with partner: 73%
Active Travelers:  twice as likely than the general  population to travel for special events, and more than eight times as likely to visit national parks.
Active Readers: purchases an average of 4 or more  books  every 3 months.  
Loyal HistoryNet Readers spend: 1 hour, 48 minutes reading each issue