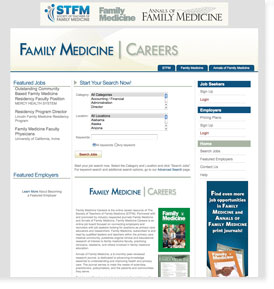 Family Medicine Careers is promoted and sponsored by industry associations, publications and digital media, including: The Society of Teachers of Family Medicine (STFM), Family Medicine – The Official Journal of the Society of Teachers of Family Medicine, and Annals of Family Medicine – a peer-reviewed journal sponsored by multiple family medicine organizations.
The collaborative job board is an extension of the supporting brands and offers powerful tools for job seekers and employers to search and fill open family medicine education, research and physician job opportunities.
If you have family medicine faculty, director, administrative, research or physician jobs available, use Family Medicine Careers to:
Featured Employers
Featured Employer accounts are available for recruiters and companies with multiple job openings. Featured Employers receive many exclusive benefits including:
Unlimited Featured Job Postings
Logo in Rotation on the Homepage
Customized Company Profile Page
Resume Database Access
Enhanced Account Management Tools
Applicant Pre-Screening Options
Click here to see the full list of Featured Employer benefits!
Banner Ads
Banner advertising is available for CME, product and service advertisers. Banner ads can target employers, job seekers or both.
Click here to view the rates and pricing plans for Family Medicine Careers.
Family Medicine Careers is an online job board focused on connecting employers and recruiters with job seekers looking for positions as primary care educators and researchers.
Ready to post your job online now? Be sure to read our Tips on Writing Effective Job Postings.