Journal of the American Academy of Physician Assistants (JAAPA)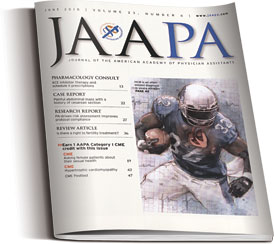 About JAAPA
The Journal of the American Academy of Physician Assistants (JAAPA) is the peer-reviewed clinical journal of the American Academy of Physician Assistants. Its mission is to support the ongoing education and advancement of PAs by publishing current information and research on clinical, health policy and professional issues.
JAAPA is published 12 times per year with a circulation of 73,000.
Advertising in JAAPA
Recruit Physician Assistants
Hire physician assistants quickly with an advertisement in this targeted association journal.
Advertise Medical Meetings and Education
Advertise CME and conference opportunities for physician assistants.
Medical Equipment and Supplies
Advertise medical supplies to physician assistants working in hospitals, private practices, urgent care facilities and more!
JAAPA Classifieds delivers your opportunity, product or service advertising in a highly visible section consisting of display ads from one inch to one-half page. Interested in online physician assistant recruitment? Learn more about the Clinical Job Advisor job board.
Also consider advertising in The Clinical Advisor. Reach physician assistants and nurse practitioners with your targeted message in the #1 NP/PA publication. Advertise in both JAAPA and The Clinical Advisor to receive special volume pricing.