Journal of Urgent Care Medicine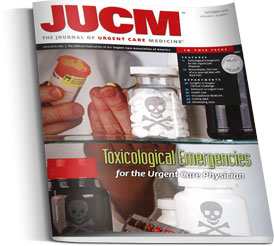 About JUCM
The Journal of Urgent Care Medicine (JUCM) is the official journal of the Urgent Care Association of America (UCAOA). Each issue contains a mix of peer-reviewed clinical and practice management articles that address the distinct clinical and practice needs of today's busy urgent care medicine clinician.
JUCM's circulation of 11,000 includes qualified physicians, nurse practitioners and physician assistants practicing in urgent care facilities nationwide.
Advertising in JUCM
Urgent Care Recruitment
Advertise job opportunities for urgent care medical specialists including physicians, nurse practitioners and physician assistants.
Urgent Care Online Job Board
Recruit urgent care medical practitioners online on the JUCM CareerCenter urgent care job board.
Medical Products and Services
Advertise medical supplies, products and services for urgent care facilities in this targeted urgent care medicine journal.
Interested in online urgent care medical staff recruitment? Learn more about the JUCM CareerCenter job board.