JUCM CareerCenter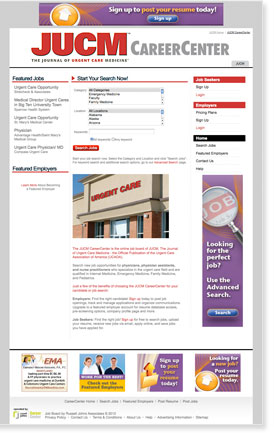 The JUCM CareerCenter is the Journal of Urgent Care Medicine's custom, urgent-care focused, full-service recruitment and job listing platform. It is a natural extension of the JUCM brand; a name associated with expertise, quality and support in the urgent care field.
The online job board provides a complete solution for connecting and matching urgent care employers and job seekers.
If you have job opportunities in the urgent care field available, use the JUCM CareerCenter to:
Post jobs
Manage candidate applications
Organize candidate communications
Combine with a print recruitment advertisement in the Journal of Urgent Care Medicine to reach both the print and online audience
Featured Employers
Featured Employer accounts are available for urgent care recruiters and facilities with multiple job openings. Featured Employers receive many exclusive benefits including:
Unlimited Featured Job Postings
Logo in Rotation on the Homepage
Customized Company Profile Page
Resume Database Access
Enhanced Account Management Tools
Applicant Pre-Screening Options
Click here to see the full list of Featured Employer benefits!
Banner Ads
Banner advertising is also available for CME, product and service advertisers. Banners can target employers, job seekers or both.
Click here to view the JUCM CareerCenter rates.
JUCM's print and online classified products have been a reliable source of targeted recruitment advertising for both urgent care employers and job seekers. With powerful tools and multiple exposure opportunities, the JUCM CareerCenter is part of JUCM's continued commitment to be a comprehensive resource for the urgent care community.
Contact an advertising specialist today and let us build a custom recruitment package to meet your goals!
Ready to post your job online now? Be sure to read our Tips on Writing Effective Job Postings.