MHQ: Military History Quarterly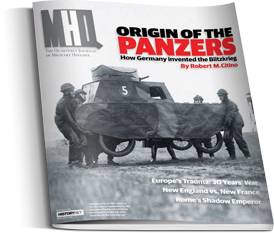 About MHQ
This Publication takes you on an exciting journey to the world's greatest battles and campaigns over the last 5,000 years, from ancient warfare through modern Iraq. Written by distinguished authors and historians, MHQ covers in vivid detail the soldiers, leaders, tactics and weapons throughout military history, delivered in an exquisitely illustrated, deluxe magazine.
This Publication is published 4 times per year with a paid circulation of 18,000.
Advertising in MHQ: Military History Quarterly
Who Advertises in History and Military Magazines :  Travel & Entertainment and Tourism , Education, Gaming ,Banking /Insurance. Publishing, Authors and Books, Military Support, Collectibles and Antiques and more ! 
Military Collectibles
Advertise military history models, collector's items, military miniatures or other militaria.
Military History Antiques
Promote and advertise military history antiques for sale.
Military History Books
Reach avid book collectors when you advertise your military history novel in MHQ.
Direct response advertising is offered run-of-book for one-sixth page and larger display ads.
Reader Profile at a Glance
Male readers: 91%
Median age: 54.9 years
Median HHI: $101,973
College educated: 92%
Married/living with partner: 73%
Active Travelers:  twice as likely than the general  population to travel for special events, and more than eight times as likely to visit national parks.
Active Readers: purchases an average of 4 or more  books  every 3 months.