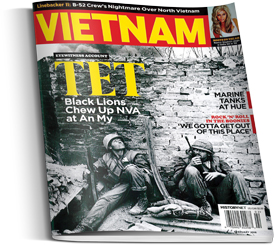 About Vietnam Magazine
Vietnam Magazine  is the only one of its time that is  exclusively devoted to telling the full story behind the Vietnam War, with gripping firsthand accounts and carefully researched articles by veterans of this controversial and divisive conflict.
Vietnam is published 6 times per year with a paid circulation of 31,000.
Advertising in Vietnam Magazine
Antiques
Advertise military history collector's items, military miniatures or other militaria to Vietnam veterans and collectors.
Books on the Vietnam War
Advertise both historical fiction and nonfiction books to this targeted audience of military history readers.
Historical Military Memorabilia
Advertise military history antiques to collectors and history enthusiasts.
Direct response advertising is offered run-of-book for one-third page and larger display ads. The Marketplace section consists of display ads up to one-sixth page and word ads run in the Classifieds section.