Aviation History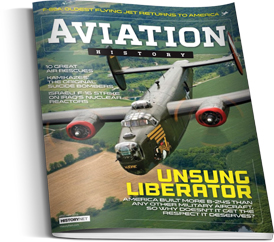 About Aviation History
Aviation History offers aviation enthusiasts the most comprehensive, authoritative and in-depth coverage of the history of world aviation and manned flight, from its origins to the Space Age. Action-packed stories and vivid illustrations put readers in the cockpit to experience aviation's greatest dramas.
Aviation History is published 6 times per year with a paid circulation of 35,000.
Advertising in Aviation History
Aviation History Memorabilia
Advertise aviation collector's items and memorabilia to this targeted audience of military aviation enthusiasts.
Historical Aviation Art or Prints
Advertise historical aviation prints or posters.
Military Aviation Miniatures
Reach hobbyists when you advertise military aviation models and miniatures.
Direct response advertising is offered run-of-book for one-third page and larger display ads. The Marketplace section consists of display ads up to one-sixth page and word ads run in the Classifieds section.