Family Medicine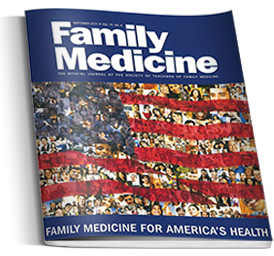 About Family Medicine
Family Medicine is the official journal of the Society of Teachers of Family Medicine. It is designed for educators from a variety of different backgrounds in family medicine education. Approximately 5,000 family physicians, psychologists, sociologists and public health specialists turn to Family Medicine for the latest information in family medicine research and commentary on medical education.
Advertising in Family Medicine
Family Medicine Educator Recruitment
Recruit medical faculty and medical researchers in the Family Medicine Employment Opportunities section.
CME
Medical Education advertising for this targeted readership of family medicine educators, researchers and practitioners is available.
Medical Products & Services
Business and education products and services are featured under a category heading.
Recruitment, CME, product and service advertising consists of both classified word and display ads. Interested in online medical faculty recruitment? Learn more about the Family Medicine Careers job board.