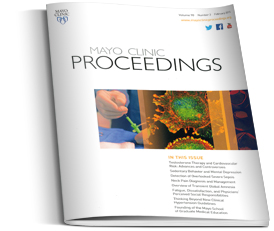 About Mayo Clinic Proceedings
Mayo Clinic Proceedings® will launch the new Elsevier Targeted Buy – PCP in November 2014. This highly efficient combination buy leverages the high IM circulation of Mayo Clinic Proceedings and the newly expanded GP/FP circulation of The American Journal of Medicine®.
Mayo Clinic Proceedings®, a peer-reviewed and indexed journal, sponsored by Mayo Clinic, and authored by physicians worldwide, publishes original articles, reviews, and editorials of interest to physicians primarily in the practice of internal medicine, cardiology and oncology.
Advertising in Mayo Clinic Proceedings