World War II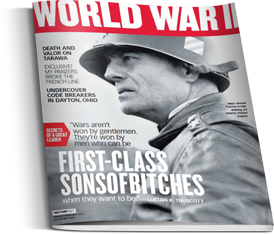 About World War II Magazine
World War II magazine covers every aspect of history's greatest modern conflict with vivid, authoritative writing by the world's top historians. Each issue is strikingly designed and contains a lively mix of stories about soldiers, leaders, tactics and weapons including detailed battle maps, riveting firsthand accounts and reviews of books, movies, and video games.
World War II is published 6 times per year with a paid circulation of 72,000.
Advertising in World War II
Books about World War II
Advertise historical fiction and nonfiction literature about the World War II era to this targeted audience of military history enthusiasts.
Collectors' Maps of World War II
Advertise maps and other military history collectibles.
Military Antiques
Promote and advertise military history antiques for sale.
Direct response advertising is offered run-of-book for one-third page and larger display ads. The Marketplace section consists of display ads up to one-sixth page and word ads run in the Classifieds section.