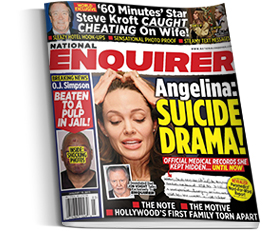 About
Advertise in the original celebrity entertainment magazine! National Enquirer is known for getting the stories first. Each issue gives its readers stories they won't find anywhere else!  National Enquirer prides itself on selling more copies on the newsstands than its competitors.
This publication is highly visible at grocery checkout stands, newsstands  and airports all over the country. The National Enquirer brand stands out as a recognizable brand among multiple generations and demographics.  This makes it one of the highest volume single copy sales publications today and is an appealing publication to its faithful subscribers and frequent readers looking for the most up to date celebrity stories.
National Enquirer Classifieds & Personals Advertising
The National Enquirer Classified Marketplace offers advertisers a high-profile location for placement of their advertising message.
Advertise psychic services
Advertise books nationally
Advertise services & products
Demographics at a Glance
Women/Men Ratio: 66/34
Median Age: 52.2
Average HHI: $63,534
National Enquirer Readers have spent more than $1.36 Billion on mail / phone / internet orders in the last 12 months.*
The average reader of the National Enquirer has spent $521 on Mail/Phone/ Internet Orders in the last 12 months