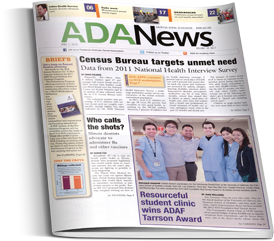 About ADA News
ADA News, the official news publication of the American Dental Association (ADA), is dentistry's best-read publication and is the pre-eminent source of important news affecting dentistry.
Reach more than 158,000 (average qualified) dental professionals in ADA News, the highest qualified circulation compared to any other dental publication in the nation.
Advertising in ADA News
Dental Equipment and Services Advertising
From cosmetic dental equipment and dental implants to instrumentation and dental laboratory services – ADA News is the place to advertise dental equipment and services.
Dental Practices and Real Estate Opportunities Available
List your practice for sale or office for lease opportunity.
Dental Office Products Advertising
Advertise office equipment and professional services.
The ADA News Dental Office Shopper is an affordable classified advertising option that reaches a highly targeted audience of dentists and dental professionals. Display advertising is available for all categories of classified advertising in ADA News. Practices / Offices Available listings can also take advantage of classified word advertising options. Interested in maximizing your reach with other ADA classified advertising? Learn more about ADA CareerCenter online job board, ADA Marketplace online classifieds and JADA print classifieds for recruitment, product, service and practice for sale advertising.