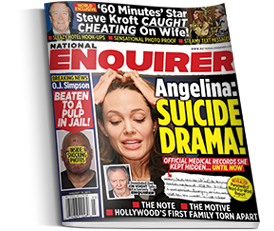 About
Advertise in the original celebrity entertainment magazine! National Enquirer is known for getting the stories first. Each issue gives its readers stories they won't find anywhere else!  National Enquirer prides itself on selling more copies on the newsstands than its competitors.
This publication is highly visible at grocery checkout stands, newsstands  and airports all over the country. The National Enquirer brand stands out as a recognizable brand among multiple generations and demographics.  This makes it one of the highest volume single copy sales publications today and is an appealing publication to its faithful subscribers and frequent readers looking for the most up to date celebrity stories.
National Enquirer Classifieds & Personals Advertising
The National Enquirer Classified Marketplace offers advertisers a high-profile location for placement of their advertising message.
Advertise psychic services
Advertise books nationally
Advertise services & products
Demographics at a Glance
Women/Men Ratio: 62/38
Median Age: 52.3
Average HHI: $76,319
National Enquirer Readers have spent more than $1.78 Billion on mail / phone / internet orders in the last 12 months.*
The average reader of the National Enquirer has spent $767 on Mail/Phone/ Internet Orders in the last 12 months
Testimonials
 Josh,The ad that you and your team helped me put together was far better than I could have imagined.  All of you have gone far and above what I expected, and I'm thrilled with the results.  Sometimes with a lot of words, it's hard to know how to place them so that they're readable and the message stands out, and the extra touch of color really did the trick as well – the help you've provided with this ad has more than met my wildest dream. I also appreciate the fact that you gave me a chance to change my mind about the first ad your team designed, and you were patient and realized what I was requesting – this is truly a gift.  I believe the end product gets the word across to the reader, catches the eye, and is professionally designed to help sell this book.Please thank your team members for me as well.

Associate Broker Tierra Antigua Realty

As a first time client of The National Enquirer, I would like to express my gratitude to Josh Padro for patiently listening to my advertising needs, and the impressive ad which he produced.  As the owner of several companies, I deal constantly with various newspapers who always attempt to maximize their revenues off your account, even if it is not warranted.  Josh on the other hand stated that he suggests that initially take it one step at a time to determine our target audience.  I will be a repeat client of The National Enquirer due to Josh's advertising expertise, as well as his personal attention he has displayed.