ADA CareerCenter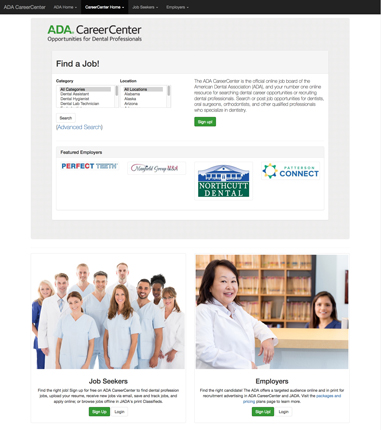 ADA CareerCenter is the premier online full-service job board resource that reaches dentists and dental professionals. ADA CareerCenter is the official job board of the American Dental Association (ADA) and its publications, JADA and ADA News.
If you have dentist job openings or dental professional career opportunities, use the CareerCenter to:
Post job openings
Track and manage applications
Organize communications with candidates
Maximize exposure and reach by combining with a print recruitment advertisement in JADA
Featured Employer
Featured Employer accounts are available for dentist recruiters and dental practices with multiple job openings. Featured Employers receive many exclusive benefits including:
Unlimited Featured Job Postings
Logo in Rotation on the Homepage
Customized Company Profile Page
Resume Database Access
Enhanced Account Management Tools
Applicant Pre-Screening Options
Click here to see the full list of Featured Employer benefits!
Banner Advertising
Banner advertising is available to promote continuing education, products, services or practices/offices available. Reach employers, job seekers or both with targeted banner advertising.
Click here to view ADA CareerCenter rates and pricing plans.
ADA CareerCenter is your complete solution for connecting and matching dentist employers and job seekers. We can help you build a custom recruitment plan that will reach qualified candidates today and fill dental professional job openings.  The ADA CareerCenter is the official online dental job board of the American Dental Association (ADA), and your number one online resource for searching opportunities in the dental industry or recruiting dental professionals. Search or post job opportunities for dentists, oral surgeons, orthodontists, and other qualified professionals who specialize in dentistry. for more information on our medical and dental job board Contact an advertising sales specialist today to see how we can help you!
Ready to post your job online now? Be sure to read our Tips on Writing Effective Job Postings.