Military History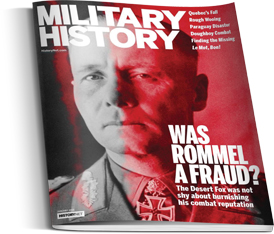 About Military History
This publication  tells the timeless true tales of battlefield heroics, brilliant tactics and wily commanders from ancient epic struggles through 20th century global campaigns—all vividly presented by top writers, artists and historians.
This publication  is published 6 times per year with a paid circulation of 41,000.
Advertising in Military History
Historical Military Models Advertise historical military models, collector's items or militaria.
History Books on the Armed Forces Promote historical fiction and nonfiction books to this targeted audience of military history readers.
Historical Military Photographs Reach collectors by advertising your collectible historical military prints and photographs in Military History.
Direct response advertising is offered run-of-book for one-third page and larger display ads. The Marketplace section consists of display ads up to one-sixth page and word ads run in the Classifieds section.
Advertising Information at a Glance 
Who Advertises in  Tourism , Gaming ,Banking /Insurance. Travel & Entertainment, Education, Publishing Military Support, Museums. For a full listing and logos see the Historynet Media Kit 
Reader Demographic
Marketplace & Direct Response Rate Card [PDF]   |   Print & Online Media Kit [PDF]   |   Issue Dates [PDF]