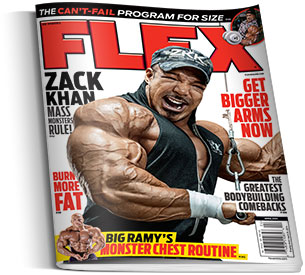 About
This publication is  the undisputed leader in delivering hard-core bodybuilding service and entertainment and it sets the tone for the "bodybuilding as a lifestyle" philosophy embraced by its readers.
The FLEX brand is not only responsible for the minds and bodies of its readers, but also steers the very sport to which they have dedicated their heart and soul.
The target reader wants to be the biggest guy in the gym and is a fan of bodybuilding competitions as well as an active participant.  The Goal of  this publication is to inspire, instruct and inform our readers, and appeal to their passion as both fans and active participants in the sport of bodybuilding. We achieve this by balancing cutting edge training and nutrition, with complete and in-depth coverage of professional and amateur bodybuilding.
Reader Profile at a Glance
Median Age: 32.6
Male Readership: 94%
Median HHI: $53,796
Advertising in Flex
Additional Resources