American History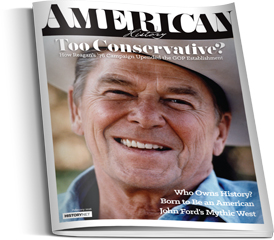 About American History
American History is the leading popular magazine devoted to exploring the rich texture of the American experience through engaging writing, outstanding photography and artwork. Lively storytelling, thoughtful essays and eyewitness accounts bring America's past alive in each entertaining issue.
American History is published 6 times per year with a paid circulation of 46,000.
Advertising in American History
AntiquesAdvertise American history antiques or other collector's items.
Historical NovelsAdvertise historical fiction and nonfiction novels to this targeted audience of history enthusiasts.
Historical photographsHistorical photographs and other historical artifacts can be listed in the American History Marketplace or online at HISTORYnet.com.
Direct response advertising is offered run-of-book for one-third page and larger display ads. The Marketplace section consists of display ads up to one-sixth page and word ads run in the Classifieds section.
Advertising Information
Marketplace & Direct Response Rate Card [PDF]   |   Print & Online Media Kit [PDF]   |   Issue Dates [PDF]