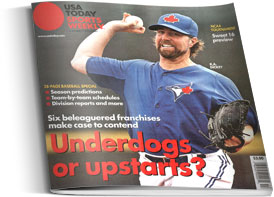 About Sports Weekly
Sports Weekly is USA TODAY's sports publication catering to avid fans of baseball, football, NASCAR and fantasy sports.
Sports Weekly has a total paid circulation of more than 112,500 and reaches a mostly male (90%) audience of 18-34 year-old affluent, tech savvy readers.
Advertising in Sports Weekly
The Sports Shop advertising section appears in each issue and offers classified word advertising and display options from one inch to one page. The Sports Shop advertising section is also published in the special focus editions listed below.