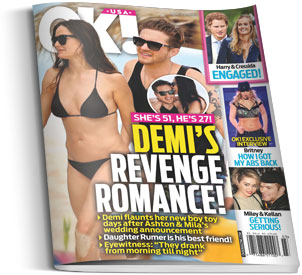 About OK!
OK!  magazine is jam packed with the hottest and the most sizzling details of all  the top celebrities' lifestyles. Each issue is delivered weekly to its loyal readers and shares exclusives hard to get stories, the best original photographs, and the hottest "A-list" stars's most pinnacle moments.
OK! Magazine delivers over 4.9 million consumers a weekly all-access pass to the latest fashion and beauty trends, health and fitness, celebrity vacations as well as the hottest couples and cutest babies in Hollywood.
Advertising in OK! Magazine
 Psychographic research shows the readers of  OK! are trendsetters, thought leaders  and are also interested in emulating the looks and lifestyles of the celebrities that they read about in  OK! Magazine. They are the first to test drive new products and frequently experiment with new brands and styles. Research also shows that this demographic is loyal consumers that once they begin using and like a product they form strong brand affiliations and loyalties to them. This publication is the perfect audience for a variety of products and services from travel , gifts, beauty products, health and more ! 
Reader Profile at a Glance
Female readers: 88%
Median age: 37.3  years
Median HHI: $71,869