Just like any other small business owner, franchise owners also face unique challenges. They are constantly trying to figure out how to grow awareness about their brand. As well as increase franchise sales and build additional revenue sources. For business owners advertising can seem daunting. There are so many choices. Not to mention it can get expensive quickly. This is no different for franchises.  "Every year when I attend the International Franchise Expo I am always looking to uncover more of the unique challenges that franchises face. So that in turn we may be able to provide a solution. " Said Doug Knowles, Account executive at Russell Johns
One of the biggest challenges that I find, is how to expand their business in sales or reach. Another hurdle is finding economical advertising. The kind that allows them to stay on track to reach these goals. Without putting a hole in their wallet. Trying to advertise a franchise can also carry additional, unique difficulties. Some that other types of businesses may not face at all.  
There are many rules and regulations that must be followed.  So they do not encroach onto the territories of another franchisee.  Often, advertising on a larger national or regional scale can seem nearly impossible. One way to go about this is online advertising.  There are sites that allow Franchise owners to list their opportunities on a reputable website. Posted along with other franchises so that possible Franchises can look for an opportunity suited for them. This might be based on factors like Interest level or start-up fees.
Print advertising allows advertisers the ability to stretch their budgets. Expanding their reach in a way that allows them to advertise for a longer period of time. Print advertising also targets specific markets. Or demographics and expands the reach of its advertising markets. This improves the recognition and reputation of the advertiser.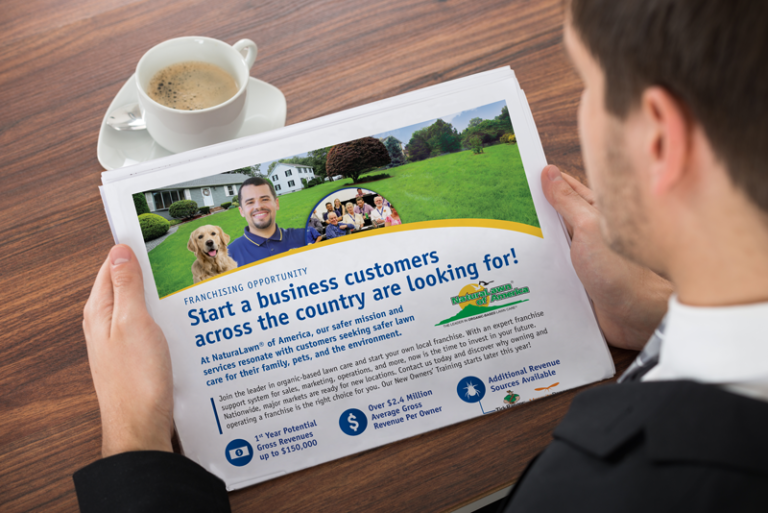 Print advertising like the above Display Ad placed in credible and well-known publications lends its reputation to its advertisers.
Think about products that advertise by including logos that say things like "as seen on " or "find our ad in " a  respected publication or being promoted by a popular radio host.  Most people like to feel like they are both ahead of the crowd but also making a decision that the crowd will support.
Print readers are "tuned in"
Looking at print advertising, both Display Advertising and Classifieds is a conscious choice.  Most people set aside a specific time of day to go through their mail or to sit down with their favorite magazine or daily a paper.  Because of this, it creates an atmosphere where they are open to what they see within the pages whether it is a news article or a new product.  Paid subscriptions to the print editions of both magazines and newspaper publications continue to remain higher across the board than the digital versions.
 Co-op Advertising for Franchise
Many types of advertising can leave an audience feeling overwhelmed or in the case of online advertising can frequently go ignored by the audience altogether because we have become so used to "tuning it out."  The competition among advertising venues is steep. There are so many types of advertising available and business owners have more variety to choose from.  Traditional forms of advertising have seen a decrease in advertising dollars spent. This provides the benefit of running ads in a medium where there is less competition among the advertisers and more likely that the people looking for what you have to offer will have less clutter to sift through when it comes to seeing your ad.
Print advertising on a national or regional level also is a great way to spend Co-op dollars as it allows for a broad reach but low budget spend.  Unlike For Regional and local opportunities, surprising to most people is that in some cases recognized publications do offer advertising opportunities for franchises that are not registered nationwide. "USA Today allows us to place regionally and nationally targeted franchise development campaigns to specific statewide regions including the Carolina's, Ohio, Georgia, and Tennessee." ( Blaine Young NaturaLawn of America)
For more info on How to effectively advertise a franchise with print advertising or other types of media,  co-op advertising for the franchise,   or regional franchise advertising check out these additional resources.