Recruitment Advertising doesn't have to be complicated.  Here are things that you might want to keep in mind while creating your ads. These tips will help you write an effective ad and attract the right professionals to your position.   
Here are the best job ad examples and Sample Job posting Ads. Properly written ads  help you  shorten your recruitment process.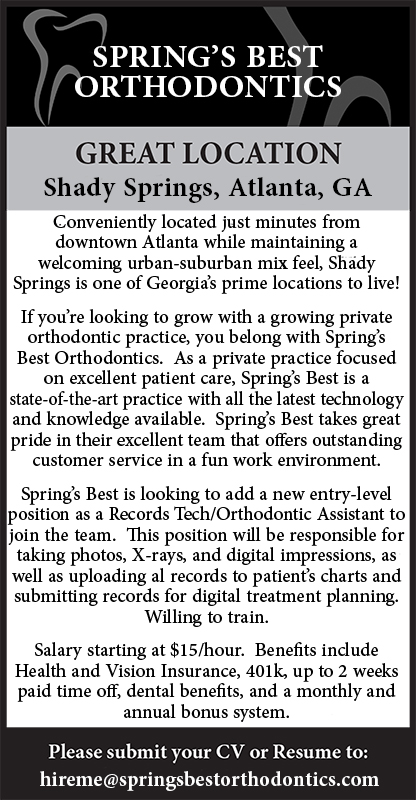 Best Job Ad Examples
Do's
1. Your Headline Sells it; How to write an effective recruitment advertising headline 
It probably comes as no surprise that before you do anything else you must make sure that your headline gets their attention first. In order to create an effective headline for your recruitment ad spend a few minutes identifying the most appealing things about the position. You might also want to consider including the most eye-catching in your headline. in the example above the ad does a great job of mentioning the location for the place of employment is appealing. 
2. Clear Contact Directions
The second most important thing for every recruitment ad is making sure that there is clear and detailed information about how and when applicants need to apply.  This includes how and where resumes should be sent.
Double-check contact information and consider creating an email address or forwarding option so that you can route applications to the appropriate people easily or into one specific mailbox. This will create a smoother process all around. In the above example, you will notice how this information is highlighted apart from the ad so that it stands out even if you do not read the entire ad.
3. Just keep it simple.
"I tell my clients not to overdo it on the information. Give the details of the job and its requirements as well as the key  information."
4. Inviting Office Environment
"It's always important to give your candidate some kind of idea about the work-life balance or the environment mentality of where they would be working.
Small details like this help applicants picture what it would be like to work there.  The above example points out the fun atmosphere and growth potential as well as benefits that it off3eres teammates. 
5. How do you stand out
" It's also crucial to let would-be applicants know something that makes your  company stand out, maybe your company offers unique incentives, room for growth within the company, or the most advanced equipment and training." The above example also points out that there is room for growth and benefits like 4o1k as well as insurance, bonuses and state-of-the-art facilities 
Don'ts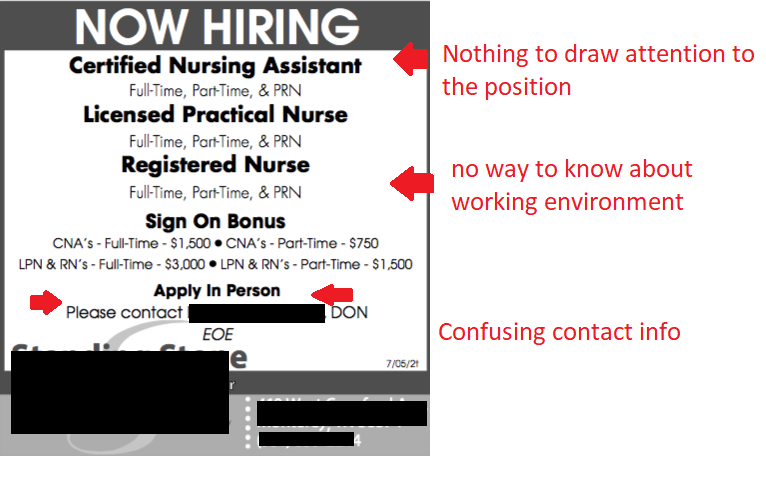 1. First Impressions count
Sure the job sounds great on paper, you are sure you will get a ton of applicants. That's great right? Not exactly, forgetting to include info about personality requirements that might be necessary for the job could mean a lot more time spent sifting through applications or through interviews with people who are nowhere near what you are looking for."
2. Too much of a good thing 
This ad did get one big thing right which is "Don't overindulge, sure you could include every single little thing about the job but most likely it will just distract your audience. Too much information can actually be a bad thing especially when it comes to salary. You want to make sure you leave room for the candidate to come up with questions."

Kimberly  Ridgeway is a Senior Media Sales Associate for MCA-RussellJohns. She has been working with recruitment advertisers for more than five years on such titles as 
USA Today, ADA Careercenter, and more.  Kim's expertise is in reaching physicians, faculty, and upper-level medical staff for recruitment advertising in medical publications and online Career Center. Ridgeway also works with the ADA Journal and ADA News reaching dentists for recruitment advertising in our dental publication.
For more information on Effective recruitment advertising contact us