What things to remember when you want to create a more Effective Recruitment Advertising Campaign
Here are some tips for creating an effective recruitment advertising campaign and making sure you attract the right applicant to your open position. The better written, the more likely you will get applicants that fit what you expect for the position you need to fill.
1. To create effective recruitment advertising campaigns it is important to focus your Headline on what sells
The subject line has to attract attention first! Start by deciding the most appealing things about the position. To do this, ask if there is anything that stands out from other opportunities like it.Perhaps your company has won many awards in its field, or the company's atmosphere is especially inviting and draws people in. It may also help to name drop or be funny as these are all great ways to draw attention and give some understanding to the type of atmosphere the company has.
2. To create more effective recruitment advertising campaigns it is important to consider Publication Placement
The placement of your recruitment advertising can also play a big part in getting more attention for your ad.  For most publications, recruitment ads are placed under the appropriate heading or category. This helps them to be easily found by the targeted audience.  In some cases where there may be a "gray area" because of job functions are being performed, it may be possible to list your ad under multiple headings.
Something else to consider when you want to write more effective recruitment ads is that, when possible,  request to have your ad placed in the upper right-hand corner of the ad when running in the newspaper.  When people read, their eyes naturally go from top to bottom and view the right page first.
Some publications will allow this, and others do not due to category restraints, but in most cases, it is worth it to ask, or at least open up a conversation with your rep about other suggestions that they may have.
"Vista Community Clinic has worked with Russell Johns for several years now, and it's been a pleasure.  They are extremely helpful in creating and reviewing our ads and ensuring there is no gap in our advertising.  We appreciate the many suggestions they offer us for new ways to reach our candidate audience." ( Carol Camarda, SPHR,  Chief Human Resources Officer)
3. To create effective recruitment advertising campaigns it s it crucial to Be Clear about How and When to apply
Give detailed information to applicants.  About how to submit their resumes and when they should be submitted by is one of the first ways to stay organized with the application process.  Make sure to double-check that any dates also match up. And confirm that they match with when the ad will be running and the location it needs to cover also.
Even though this may seem obvious, updating dates and locations is something advertisers can easily forget about if plans change or if the recruitment process is delayed or takes longer than expected.
Double-check contact information as well, and consider creating an email address or forwarding option so that you can route applications to the appropriate people easily or into one specific mailbox to create a smoother process all around.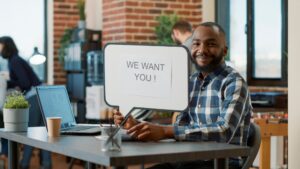 4. To create more effective recruitment campaigns it is important to Write For Your Audience
No matter what the intent, any type of advertising or marketing material needs to be written with the audience in mind. Try and visualize who you think the ideal candidate is. What type of person they are. As well as what things might appeal to them.   It is also helpful to take the time to consider what they are looking to see.  And what would be most appealing to them.
One of the most important factors to consider is understanding that is important to consider that different age groups have very different priorities when seeking out employment. For instance, younger applicants have different values than older generations. Younger generations especially tend to prioritize a work/life balance more than someone from older generations. Millennials are also the most educated generation ever, so detailed information on salary and retirement benefits is important to them also
While you do not have to include every detail, it is necessary to give a short detailed description of the job and the requirements of the duties. Give the reader some basic understanding of the hours involved and benefits that may be received. Leave out anything that might seem vague. This will increase the likelihood of unqualified applicants.
If you expect that people may have to relocate for the position.  Consider including some additional information, like the most popular reason people might consider moving to that location. There is no need to overindulge. Including these things can help your opportunity to stand out from others in similar jobs.
Effective recruitment advertising always has something about the job and or company that makes it stand out from all the rest.  It is also important to remember that what might appeal to you may not be the first thing that appeals to someone else.
5. Multi-Media and Professional Resources
It can be helpful to post your recruitment ads on multiple sites. This gives your ad the best advantage to catch the top applicants where they are!
Posting your ad on multiple forms of media also produces a more successful and effective recruitment advertising campaign.  Professional careers like Dentists and Doctors also have their own professional job board services.  Professional job boards provide a credible environment for professionals to place their ads.  It is also the perfect environment to find highly skilled employees from within the field. For more information on job board advertising, please see this additional page.